SR142 Roundabout Water Main Relocation
City of Covington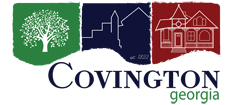 DATE OF SERVICES: August 2020 – February 2021
PROJECT STATUS: Complete
ROLE OF FIRM:
PROJECT TEAM: 
Burke Murph – Project Manager
Matt Taylor – Quality Control
Claire Swaim – Senior Project Engineer
Mike Griffore – Senior Designer
Barrett Neal – Assistant Project Manager
CLIENT:  City of Covington
PROJECT DESCRIPTION:
The City of Covington (City) requested engineering services from GWES to complete an existing condition evaluation and prepare construction plans, contract documents, and technical specifications for water main relocation at the proposed SR142 roundabout for the Georgia Department of Transportation (GDOT).  Construction included relocation of 1,062 linear feet (LF) of 8-inch water main beginning at a point 1,215 feet (FT) south of the SR142-US278 intersection and continuing to a point 560 FT south of the same intersection.  Relocation was completed by way of trenching to make way for a new roundabout at the high school entrance along with an 80 LF 16-inch steel casing at the entrance.